WEAVING LASTING EMPOWERMENT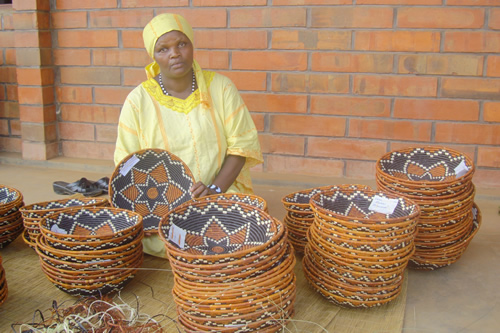 Master Weaver Mukamuhoza Mamerita
My name is Mukamuhoza Mamerita, I am the President of one of the weaving cooperatives which has 130 women weavers.  We live in Kiyombe, one of the most remote villages in Rwanda's eastern province. Most of the women in my cooperative lived on subsistence farming with no source of income. Under the support of PPPMER, I and eight other women from my village were asked to attend a weaving training course at Gahaya Links. Since we started weaving baskets and other items, the women have earned an income and improved their lifestyle. We can now afford food, clothing, tuition for our children and health insurance. As the leader of my cooperative, I have dedicated my time to the well being of all the women. I make sure that we invite as many women in the community as we can to join us.
Our lives have changed and we want everyone to benefit. When we opened a savings account for the cooperative, Gahaya Links educated us on how to start savings circles. In these circles, we started to build a house for the women in the poorest living conditions. Today, we have completed 25 iron sheet roofed houses and we are still going strong. Our goal is that every weaver in our group will live in a decent home where she feels proud to live where our children can play and live a normal life which we didn't have while growing up.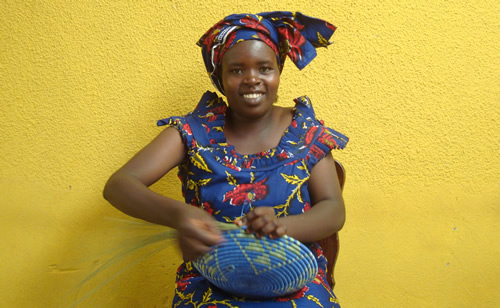 Master Weaver Mukakamanzi Theresa
My name is Mukakamanzi Theresa, I am 30 yrs old, I was born in a family of 9 children, 5 boys and 4 boys. I dropped out school because my parents could not afford tuition. The little they made out of selling potatoes and cassava from our small gardens they used to pay tuition for my brothers.
With no education and no job, I was forced to marry Rudasingwa Alexander at the early age of 19. My husband worked in the capital Kigali making very little to support our new family. While he went to the city, I stayed home to care for our children and he came home once a month, sometimes once in two months. If my husband didn't come home for many days, the children and I went hungry for days. We couldn't afford any decent clothes, which meant we could not go to any community events or church. Sometimes I had to borrow from my mother.
In 2003, when Gahaya Links came to my home village to mobilize women into weaving, I had nothing, no food or even any good clothes to wear to the meeting; I had to borrow from my mother. At the meeting, we were educated on the importance of mastering our skills to earn an income. The first basket sales bought me a piece of Kitenge, which I used to make my first dress with income from my hands. I started to put extra hours in weaving because I had no fertile land and I started earning more than the women in my group. Later, I was elected President of our cooperative Kopabanya. I later became a Master Weaver and Gahaya Links started paying me for training women in my cooperative. With my new income, I bought clothes, a mattress and a new blanket. I started buying hens and goats, which I sold and bought a cow. When my husband returned home after a while, he saw a new woman, well dressed, sleeping on a mattress and owning a cow for our family. My husband decided to move back and work from home. With my basket income I bought him a bicycle, which he uses to take my mobile phone for charging at the nearby trading center and also to collect raw materials for me. He now respects me as his wife. We have a savings account, we pay our health insurance every year and our children are well fed. I am a role model of change in my village, thanks to Gahaya Links and all who buy our baskets in America.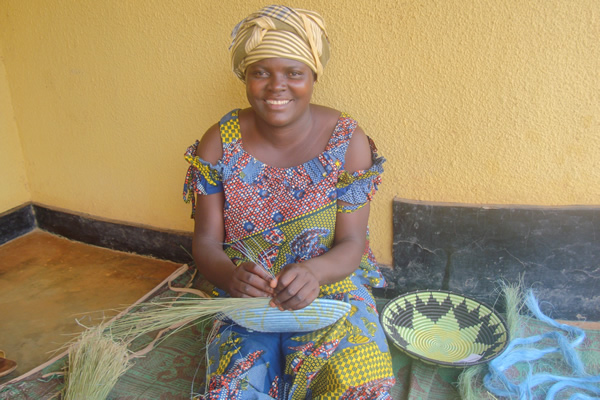 Master Weaver Nyiransabimana Eliane
My name is  Nyiransabimana Eliane, I am 37 years old, I am married with four kids. My husband and our one child are infected with HIV/AIDS. We learnt about our situation following a voluntary testing organized by PACFA now Imbuto Foundation, an organization founded by the First Lady of Rwanda.  Since then we started receiving free Antiretroviral (ARV) through a government program and some support to our family like medicine and clothing. The Imbuto Foundation later introduced us to Gahaya Links where we were encouraged to learn and adopt an income generating skill such as basket weaving. At Gahaya Links I enrolled in a two-week basket training class. This was the first time I was weaving baskets for sale. The training on new designs was very hard for me but I was determined to learn something that would contribute to our family's situation. We needed an income to support our new lifestyle due to the illness yet we hardly had any money since both my husband and I couldn't find hard labor jobs.
During training, I was among the best weavers, which later earned me the title of a master weaver. Since 2006, I have been selling my baskets and earning a weekly income. Our lifestyle has greatly improved, and we can now afford good meals.  My husband, our child can I can now take the ARV, which we had stopped taking because they made us weak if we didn't eat a good meal.
I have now trained my husband to weave since it's something he can do without leaving the home. With our baskets income, we pay our family health insurance, our children go to school with school supplies, we have bought a decent home and we save for our children's future.
Weaving has brought hope to my family, we are living a normal life like many Rwandans and I am very grateful to all the people who buy our baskets, the Imbuto Foundation and Gahaya Links for their support.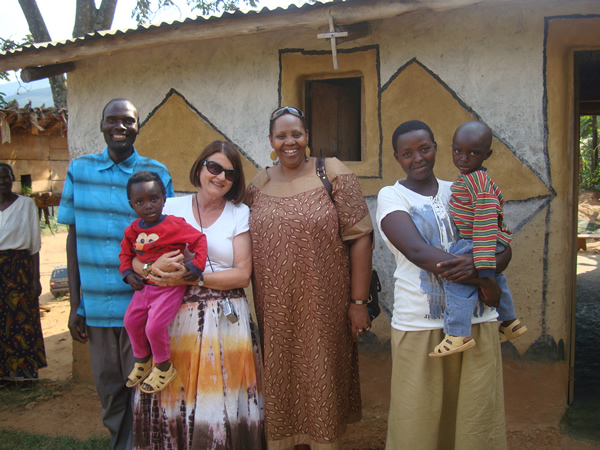 Master Weaver Muhimpundu Fatina
Muhimpundu Fatina is a member of ABAKUNDUMURIMO Cooperative. She dropped out of school before joining secondary school though she had passed her exams, as her blind mother and jobless father could not afford her education and life pushed her to weaving.
Muhimpundu is married with three children. She works very hard to make as many baskets as possible while her husband attends to the children, and rears rabbits, goats and chicken. She also helps to build houses. She grows a kitchen garden that is always green due to water reused from their washing.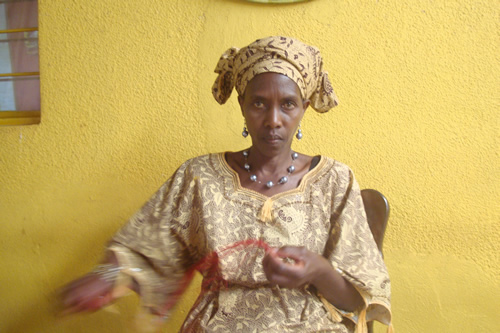 Master Weaver Ephigenia Mukantabana
Ephigenia Mukantabana hails from South Province, and survived the 1994 Rwandan Genocide against the Tutsi. She lost 65 members of her family and lost her hope in life. Gahaya Links encouraged her to join weaving cooperatives, where she would at least interact with other women for support. It was very difficult for Ephigenia, as she did not want to meet the wives, daughters or sisters of her family's killers. She sought consolation in church where she sings in the church choir, but later had to join the weaving centers because she needed an income to support her. Ephigenia is a master weaver, and the women in her home village have elected her to be the president of their weaving cooperative. People in her village did not believe that she could guide relatives of her family's killers, but to everyone's surprise, she turned out to be the leader of change.
To read more about her story click the link below.
http://www.cnn.com/2008/WORLD/africa/05/15/amanpour.rwanda/index.html
Her story is featured in movies such as Rwanda Rising and Rwanda Renaissance.